In absolute numbers, 30 songs is a lot - but it's like 3% of the game?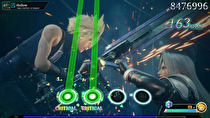 A sample from the Final Bar Line is coming in on Wednesday.
During a livestream today, Square Enix announced that Theatrhythm Final Bar Line will have a demo ahead of the game's launch on February 16. The demo (available from midnight ET on February 1) will cover thirty songs, involve thirty characters, and have multiple difficulty options. The list of songs can be found here.
As per Square Enix policy, the demo progress will carry over to the final release.