Once again, the premier baseball sim will avoid being stuck in AAA.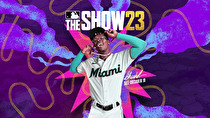 The Show is returning for a sophomore season on Switch.
Major League Baseball has announced the 2023 version of MLB The Show will launch on Switch as part of an all-platform launch on March 28. The previously Sony-exclusive and published baseball sim will be published by MLB directly.
The cover athlete will be Jazz Chisholm Jr, the Bahamian-born outfielder for the Miami Marlins who made his first appearance in the MLB all-star game in 2022.