In honor of the Fist of the North Star sequel coming soon: "NANI????"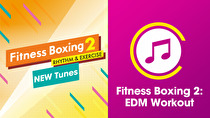 Nintendo's first new content of the year is for one of the more unexpected games in their catalogue.
A new update is now available for Fitness Boxing 2: Rhythm and Exercise, which adds a new instructor and the first DLC for the game in more than a year. The new DLC includes six songs (split into two packs of three) at US$1.49 or equivalent per pack and a pack of new nature-themed backgrounds for the same price.
Although some free difficulty additions were available from the game's December 2020 launch, the last DLC prior to this was in November 2021. The sequel, published by the game's developer Imagineer and based on the Fist of the North Star franchise, was announced in the September 2022 Nintendo Direct for a March release.
3 new paid DLC additions are coming to Fitness Boxing 2: Rhythm & Exercise!

Add 6 new songs to your workout with the EDM Workout & Rock Workout DLCs.

And liven up your routine with 3 new nature scenery backgrounds with the Nature Stages DLC.https://t.co/TSOrBRE32g pic.twitter.com/ywPbXlcabJ

— Nintendo of America (@NintendoAmerica) January 25, 2023