In about a decade and a half they went from Super Sandwich to super speedways.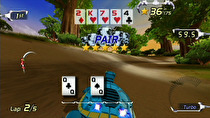 An old friend of Nintendo has been acquired by the developer of one of the most well known simulators in racing.
Minnesota-based Monster Games have been acquired by iRacing Motorsports Simulations, the makers of the iRacing simulation that covers multiple formats of racing including stock cars, open wheel (IndyCar / Formula 1), and rally racing. iRacing was actually used in lieu of track racing by multiple organizations during the first wave of the COVID-19 pandemic in the spring of 2020.
Monster Games was a development partner of Nintendo's beginning with Wii launch title Excite Truck and following with 2009's Excitebots: Trick Racing. They moved into a support role at Nintendo after that, most famously porting Xenoblade Chronicles to New 3DS as one of the few exclusive titles for the revised hardware. In recent years, they returned to their roots as a racing developer, producing four games under the NASCAR Heat banner and a pair of titles from former multiple-time NASCAR champion Tony Steward for PC, PlayStation 4, and Xbox One.