We can probably blame 2020 for this delay, though blaming Ubisoft management for not living up to their promises is also acceptable.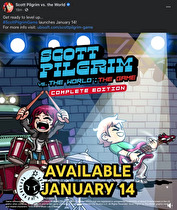 A classic brawler will be returning a little later than anticipated.
Scott Pilgrim vs The World, the licensed brawler originally announced for a 2020 re-release, has now confirmed a January 14 release date. The announcement was made on the official Scott Pilgrim Facebook page.