The ending on old man posterior was a "neat" touch.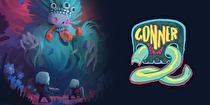 The Switch had a few new releases at day 1 of the Guerrilla Collective event.
GoNNER 2, a sequel to the 2017 roguelite shooter, was announced by Raw Fury and developers Art in Heart for a 2020 release.
Retro FPS Dusk, released on PC in 2018, will release on Switch on Hallowe'en. Similar to DOOM, the game features three different episodes of levels.
Ysbyrd (YIIK) announced their next project, a top-down action RPG which involves protecting a young child in a war torn world. No Place For Bravery will release in 2021.
Western-themed twin stick shooter West of Dead received an August release window.
Night Call (modern taxicab adventure game) will hit Switch on June 24 and include content from the "Long Way Home" update.
Swimsanity will have cross-platform online play, including rollback netcode, when it launches in summer.
Doors of Insanity is a deck-builder which features over 70 card options, and the options to preserve a card after losing. It will launch in 2021 on consoles.
2D shooter Scourgebringer will release on Switch in 2020.