RPG, adventure, and cookery. There's something for everyone.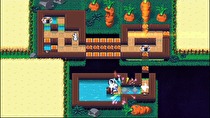 Independent publisher Sold Out have announced two games for Switch and confirmed a release date for a third.
Disjunction is a dystopia-themed stealth action RPG set in New York City ca 2048. Slated for this summer, Disjunction will follow three characters as they try to unravel a mystery.
Gestalt: Steam & Cinder is a fantasy-based action adventure game. Currently, it only has a "2020" release window.
Radical Rabbit Stew, previously announced for Switch, has been set for a July 16 release date.