Whatever Switches are on shelves as of the end of December, they may not be there for long.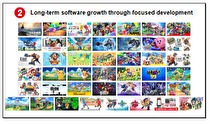 Following the quarterly results release last night (Japan time), Nintendo held their shareholder briefing today and revealed some information about units sold to consumers and the current Switch Online membership.
As of December 31, 2019 the number of Switch units sold to consumers ("sell-through") is 48 million units. This indicates 4.48m Switch + Switch Lites were on shelves based on the 52.48m unit shipped number earlier reported.
Luigi's Mansion 3 has sold through more than 4 million copies since its October 31 launch, with high strength in North America and Europe. This is more than double the launch-quarter sales of Luigi's Mansion: Dark Moon. Pokémon Sword and Shield's sell-through since its launch is 12.28m, more than the previous record held by Sun and Moon.
More than 15 million members have paid Nintendo Switch Online accounts: the last number reported a year ago was more than 8 million.
Despite reports of a potential Switch Pro this year, CEO Shuntaro Furukawa indicated that there would be no new models of Switch in 2020.