It could be anything. It could even be a boat!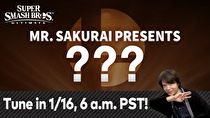 The mystery of the sixth DLC fighter for Smash will be solved shortly.
A presentation will air Thursday (January 16) at 9 a.m. ET / 6 a.m. PT / 1500 CET to announce the final fighter in the first wave of DLC. The presentation will be 35 minutes long, similar to the length of the presentation for Terry Bogard.
Join Super #SmashBrosUltimate director Masahiro Sakurai on 1/16 at 6am PT for a roughly 35 minute video livestream featuring an in-depth look at an upcoming DLC fighter, which he will unveil in the video! pic.twitter.com/aOz0ilAiXU

— Nintendo Versus (@NintendoVS) January 14, 2020