Equal parts strategy and psychology.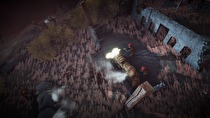 The horrors of war will receive a stark reminder on Switch next year.
Broken Lines, the debut game from recently formed publisher Super.com and developer Portal Play, is slated to release on Switch in 2020. Set in an alternate version of World War II, players control a small squad of soldiers on the Eastern Front who are trying to survive long enough to get back to friendly territory, while dealing with not only the physical threats of war but also the mental strain.
The combat combines real time strategy with a "pause and play" system for issuing commands when a new threat appears on screen. The game's reveal trailer is below, though it contains scenes of suicide.