Yes, it is weird to cover announcements from a Microsoft event on a Nintendo website.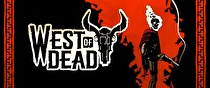 Microsoft's X019 event kicked off in London today, with a pair of announcements relevant to Switch owners.
Raw Fury Games announced West of Dead, a new twin-stick shooter that will feature the voice acting talents of Ron Pearlman. Developed by Upstream Arcade, a studio helmed by former Lionhead developers, the shooter will hit Switch and other platforms next year.
Minecraft Dungeons, the RPG spinoff of the ungodly popular construction game, also confirmed a release window for all platforms of April 2020.