So you can make anything competitive right off the top.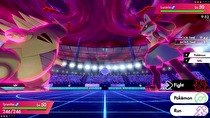 A new trailer for Pokémon Sword and Shield has shown off some of the new training assistance features.
Mints can be used to change the effect of a Pokémon's nature: there is a mint for each nature, and using one on a Pokémon will change their increased and decreased stat (though the displayed nature will remain the same).
The Vitamin items (HP Up, Calcium, Protein, etc) can now be used up to 26 times on a Pokémon: previously the cap was 10. Using 26 will max out the appropriate stat.
If two Pokemon of the same species are left in the Nursery (previously known as the Daycare), and one has egg moves, they will share to the other Pokemon.
Sword and Shield have adopted the Let's Go function of box access from "almost anywhere".
Exp Candies will supplement the Rare Candies (instant level up): they will apply varying amount of experience to a Pokemon, allowing for potentially multiple levels to be gained at once. They range from XS to XL sizes, and an XL candy gives 30,000 experience points.
The Pokémon website has additionally outlined the first online competition and a Max Raid event. From the game's launch until January, there will be increased odds of finding Gigantamax Butterfree, Drednaw (Sword) and Corviknight (Shield). The first online battle league will open registration on November 15, with registration closing at 7:59 p.m. ET on December 5th and battles running for 72 hours thereafter. Up to 15 battles a day can be fought during the weekend.