Save locations like Hong Kong with the Overwatch crew.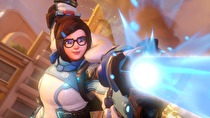 BlizzCon's opening ceremony closed on an expected announcement that the Switch will take advantage of.
Overwatch 2 was the last announcement of the show from Blizzard, and though no release date or window was given it has been confirmed for Switch. The key addition to the sequel will be a single player or co-op story mode featuring the Overwatch crew attempting to head off an assault from Null Sector.
The multiplayer modes of Overwatch will be carried over in full to OW2, and players of the original will be able to use heroes and maps created for the sequel.