Thinking you'll be able to start building Tracer straight away? Hold up.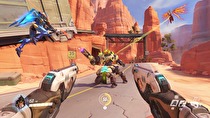 Overwatch launches on the 15th, but not at any of the standard times.
Nintendo's eShop page for the game has been updated to state the following: "Overwatch® launches globally on October 15, 2019 at 11:00am PT". First party Nintendo titles routinely unlock at midnight Eastern time on launch day, while third party preloads generally unlock at noon Eastern. This will also presumably affect physical copies which include a download code and will be available for purchase that morning.