It's about time. Literally.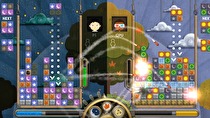 A new twist on falling block puzzle games will launch on Switch as an exclusive in two weeks, and taking the plunge early will afford a discount.
Day and Night is a new puzzle game from independent studio Ridiculous Games. A competitive puzzle game, the objective is to clear blocks in groups of four, but each side of the screen can be in a day or night state. Depending on the state, blocks can either be active or inactive. A "rehersal" mode offers CPU play to learn the basics, and "Dares" serve as a puzzle mode.
Preordering Day and Night ahead of its October 22 release will offer 25% off the game; its regular price is US$19.99 or equivalent.