At least this one owns up to the friendship-ruining parts.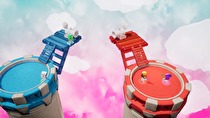 November will see another entrant look to get ahead in the Switch's party genre.
Headsnatchers will launch in November on Switch. The core game is a four player party game in which the objective is to not lose the head in one of four different game modes. A single player mode is also available, as well as a "Headitor" if the 100+ standard heads don't have any appeal.
Headsnatchers is published by Dutch house Iceberg Interactive, and developed by Chilean developers IguanaBee who previously headed MonsterBag (PlayStation Vita).