Trine, Trine, Trine, Trine... (video gaaaaaames)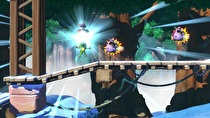 This looks to be a week of quantity.
We're already in the mid-30s for releases and... Lemon, it's Tuesday. I'm not even sure which is the big one: some would say Trine 4 as they return to their roots, some would say 2D Yooka-Laylee, and some of my friends are stanning for The Alliance Alive's remaster for some reason.
Don't forget the Monokuma game.
You mean the Doraemon game? Hell, Killer Queen Black, star of E3 2018, is also out this week. There's a River City fighting game, an enhanced Burger Time, but the game not to be slept on is horror maven Benjamin Rivers's Switch debut, Worse Than Death.
Japan's going to break the eShop tomorrow though, aren't they.<./b>
Yo-Kai Watch 1 and the sequel to Gotta Protectors which was the number 1 3DS game in the country for like, two years... yeah, probably.
North America
Switch Retail
The Alliance Alive HD Remaster (US$49.99/C$62.99: Tuesday)
Spirit Hunter: NG ($49.99/$62.99)
Call of Cthulhu ($39.99/$49.99: Tuesday)
Trine 4: The Nightmare Prince ($29.99/$39.99: Tuesday)
Yooka-Laylee and the Impossible Lair ($29.99/$37.79: Tuesday)
AeternoBlade II ($29.99/$37.79: Friday)
Killer Queen Black ($19.99/$26.58: Friday)
Burger Time Party ($19.99/$24.99: Tuesday)
Switch eShop
Doraemon: Story of Seasons ($49.99/$64.99: Friday)
Mistover ($29.99/$41.99: Wednesday)
Beast Quest ($29.99/$39.99)
Battlestar Galactica Deadlock ($29.99/$37.99: Tuesday)
Big Drunk Satanic Massacre ($29.99/$37.79)
Bibi & Tina at the horse farm ($29.99/$37.79)
Valfaris ($24.99/$31.49)
A Knight's Quest ($24.99/$29.99)
Dodge Hard ($20.00/not releasing: Tuesday)
Corpse Party: Blood Drive ($19.99/$tba)
The Bradwell Conspiracy ($19.99/$24.99)
Monochrome Order ($14.99/$20.99)
Eliza ($14.99/$18.99)
Stellatum ($14.99/$18.89: Wednesday)
Mable & The Wood ($14.99/$18.89)
Queen's Quest 4: Sacred Truce ($14.99)
Pocket Stables ($14.00/$17.64)
River City Melee Mach!! ($13.99/$17.63)
Silk ($12.99/$16.39: Friday)
Reventure ($9.99/$13.64: Tuesday)
Midnight Evil ($9.99/$12.59)
Contraptions ($9.99/$12.59)
Worse Than Death ($9.99/$12.49: Tuesday)
CrunchTime ($9.99/$11.99)
Family Tree ($7.99/$9.99)
Secret Files Sam Peters ($6.99/$8.81)
Shipped ($5.99/$7.99: Friday)
A Winter's Daydream ($5.99/$7.55: Tuesday)
Little Briar Rose ($5.99/$7.55)
Junior League Sports ($4.99/$5.99: Monday)
Duped ($4.99/$5.99)
Super Box Land Demake ($4.99/$5.99: Friday)
Mah-jongg Puzzle Pai-Sen ($3.99/$4.99)
Puzzle Book ($3.99/$4.99: Friday)
Aldred - Knight of Honor ($1.99/$2.49: Tuesday)
Minefield Kodobur Yazilim ($0.99/$1.25: Monday)
Asphalt 9: Legends (free: Tuesday)
Eternal Card Game (free: Tuesday)
3DS eShop
Maze Breaker ($6.99/$8.99)
Slime Slayer ($4.99/not releasing: New 3DS only)
Fatal Fracture ($0.99/$1.25)
Switch Archives
The Legend of Kage ($7.99/$9.87)
Demos and Trials
Doraemon: Story of Seasons
Resident Evil 5
Resident Evil 6
Sales and Price Drops
Highlights: The Square Enix Final Fantasy sale runs through Sunday, Mechstermination Force is on sale until the 17th. Spreadsheet
Europe
Switch Retail
The Alliance Alive HD Remaster (€49.99/£49.99: Friday)
Spirit Hunter: NG (€49.99/£44.99)
Call of Cthulhu (€39.99/£35.99: Tuesday)
Trine 4: The Nightmare Princess (€34.99/£29.99: Tuesday)
Yooka-Laylee and the Impossible Lair (€29.99/£24.99: Tuesday)
Burger Time Party (€19.99/£17.99: Tuesday)
Killer Queen Black (€17.99/£16.19: Friday)
Switch eShop
Doraemon: Story of Seasons (€49.99/£44.99: Friday)
AeternoBlade II (€39.99/£34.99: Friday)
Bibi & Tina at the horse farm (€29.99/£26.99)
Battlestar Galactica Deadlock (€29.99/£26.99: Tuesday)
Big Drunk Satanic Massacre (€29.99/£26.99)
Mistover (€27.99/£24.99: Wednesday)
Valfaris (€24.99/£22.49)
A Knight's Tale (€24.99/£19.99)
Corpse Party: Blood Drive (€19.99/£17.99)
Monochrome Order (€14.99/£13.49)
Stellatum (€14.99/£13.49: Wednesday)
Mable & The Wood (€14.99/£13.49)
Queen's Quest 4: Sacred Truce (€14.99/£13.49)
Pocket Stables (€13/£11.69)
Eliza (€12.99/£11.69)
River City Melee Mach!! (€11.54/£10.39)
Silk (€9.99/£8.99: Friday)
Midnight Evil (€9.99/£8.99)
Reventure (€9.99/£7.99: Tuesday)
Contraptions (€8.99/£7.99)
Family Tree (€7.99/£6.99)
Secret Files Sam Peters (€6.99/£6.29)
Little Briar Rose (€5.99/£5.99)
A Winter's Daydream (€5.99/£5.39: Tuesday)
Shipped (€5.99/£5.39: Friday)
Puzzle Book (€3.99/£3.59: Friday)
Super Box Land Demake (€4.99/£4.99: Friday)
Duped (€4.99/£4.49: Wednesday)
Aldred - Knight of Honor (€1.99/£1.79: Tuesday)
Minefield Kodobur Yazilim (€0.99/£0.89: Monday)
Asphalt 9: Legends (free: Tuesday)
Eternal Card Game (free: Tuesday)
Switch Archives
The Legend of Kage (€6.99/£6.29)
Demos and Trials
Doraemon: Story of Seasons
Resident Evil 5
Resident Evil 6
Japan
Arc of Alchemist (¥7040)
Gensou Kissa Enchante (¥6930)
The Alliance Alive HD Remastered (¥6908)
Disney Tsum Tsum Festival (¥6710)
Yo-Kai Watch (¥5478)
Milk Choco (¥3500)
Mistover (¥3300)
Yooka-Laylee and the Impossible Lair (¥3295)
Trine 4: The Nightmare Princess (¥2640)
Burger Time Party (¥1980)
moon (¥1980)
Sea Salt (¥1980)
Susume! Mamotte Knight Hime no Totsugeki Serenade (¥1980)
30-in-1 Mini Game Collection Vol 2 (¥1500)
River City Melee Mach (¥1500)
Dai Magic Jidai: Saigo no Guardian (¥1480)
Monochrome Order (¥1320)
CrunchTime (¥980)
Kage No Densetsu (¥823)
Family Tree (¥800)
A Winter's Daydream (¥700)
Mah-jongg Puzzle Pai-Sen (¥499)
Asphalt 9: Legends (free)