Those sticks are made for drifting, and that's just what they'll do.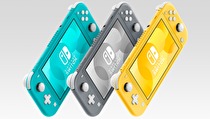 A recent report from Digital Trends indicates a new Switch Lite revision, but our own sources confirm this is not the case. The report comes after Nintendo filed a new product ID with the FCC which does not match the currently released Switch Lite model. However we've been able to confirm with a licensed Switch developer that the FCC ID in question, BKEHDH002, does in fact match that of the Switch Lite developer kits. Furthermore the FCC filing categorizes the hardware as EUT which indicates that it is "for software development and events." In other words the hardware being described is not intended for the public. Developer kits are the pre-release versions of systems sent to developers so that they can begin testing the games on the hardware prior to launch.
The Switch Lite has already come under fire for using the same analogue stick assembly as the original Switch Joy-Con. As such the sticks have begun to show the same tendency for drift as the standard Switch model. Digital Trends initially reported on the FCC filing as a revision designed to fix this issue, but it appears we'll have to continue to wait for a permanent solution.