We can expect a North American release next year, and a European one in 2025.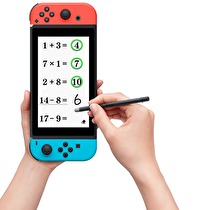 Brain Age is coming back.
The "training" game has been announced for Switch, with the Japanese release date given as December 27. Western release dates have not yet been announced.
Brain Age Switch is only playable in a sideways orientation, so it can only be played in handheld mode and a few exercises will not work with the Switch Lite. The IR camera of the Joy-Con is used for reading hand motions in certain exercises. The new Brain Age will also use the alarm function of the Switch to set training times, and has online support for email summaries and worldwide tournaments for two-player games.
In addition to the game, a branded stylus will also be available on 27 December in Japan. Brain Age's Japanese MSRP is 3480 yen, while the stylus will be 980 yen.