Forget staying in your lane.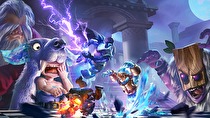 A major multiplayer strategy game will be coming to Switch next year, though territories are still to be confirmed.
At a fan festival in Tokyo yesterday, developers Dragonest announced a Switch version of Auto Chess would release next year in order to expand the player base.
Originally a mod of DotA 2, Auto Chess first released on mobile in 2018 and has a PC version slated for launch on the Epic Game Store this year.