I was going to say that this wouldn't be as rare as what happened Sunday, but then...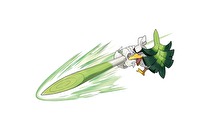 Pokémon has chosen this week to end some very long running gags.
A "glitched" Pokémon was listed on the Pokémon website this week, which was finally unveiled today as Sirfetch'd - a Fighting-typed evolution of Farfetch'd. The method of evolution was only given as "experience lots of battles".
Sirfetch'd will be exclusive to Pokémon Sword, and has the Steadfast ability. It will learn the move Meteor Assault, a powerful attack with a recharge turn.