A mass of slimes approaches. Command?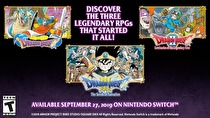 September 27 will see even more slimes.
The Dragon Quest I/II/III remakes announced in the Japanese Nintendo Direct will release worldwide on September 27, the same day as Dragon Quest XI.
Each game will be sold individually - Dragon Quest I will be US$4.99/C$6.99, II $6.49/$8.99, and III $12.49/$16.99. A combination release has not been announced.