And the wait for folders continues apace.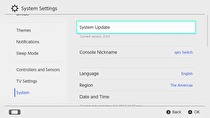 The Switch system software has updated and offers building blocks for new features.
Infrastructure was added for an alarm function and the ability to see and accept game invites from the user page on the console. The abilities to set alarms and invite friends will need to be added to software. The alarms, which can be accessed in the notification menu, will use LEDs on the Joy-Con controllers that have not been used in 2+ years.
Other items available in the update include the ability to switch the sensitivity of the touch screen between a Standard mode and a "Stylus" mode, and a Switch Lite function that will allow for the disabling of the system button if another controller is paired.
The full patch notes are here.