Where 11 goes, the original trio are sure to follow.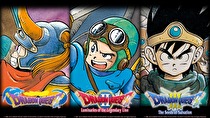 The first three Dragon Quest games are coming to Switch with English text.
During the Japanese Nintendo Direct, it was announced that the first three Dragon Quest games would release in their eShop on September 27. A follow-up post from Square Enix's Asia branch confirmed that the trio would receive a physical release in southeast Asia before the end of the year, with Japanese/Chinese/English text support.
A similar release occurred with the 3DS version of Dragon Quest XI in 2017, though English was not an option and the 3DS's region lock prevented easy importing.