I guess Sans really IS coming to Smash Bros.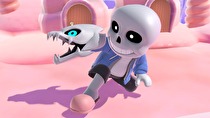 After showcasing the new fighter Banjo-Kazooie, Super Smash Bros. series director Masahiro Sakurai announced that Home Run Contest will be returning to the series in the 5.0.0 update for Ultimate. Sakurai described this mode as "pretty much the final new mode," implying there would not be any more after this.
Alongside Home Run Contest, several Mii Costumes were shown off including Sans from Undertale. The Sans Mii Costume comes with a new remix of the song Megalovania, arranged by Toby Fox.
The 5.0.0 update, along with Banjo-Kazooie, Home Run Contest, and new Mii Costumes will be released today.