They're well aware of the competition.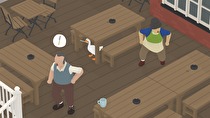 The goose will be loose three weeks from today.
Untitled Goose Game, the long awaited goose simulator from House House, will release on Switch on September 20. It will be a simultaneous worldwide release, with a regular price of US$19.99 or equivalent but a 25% launch discount.
House House have goosed up a new trailer for the game as well: