Not quite settling it in Smash, but still an acceptable way of making tough decisions.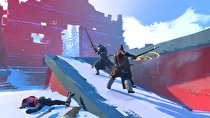 Trine developers Frozenbyte have gotten even more people involved in their newest game.
Boreal Blade, a multiplayer fighting game, is available now on the eShop along with a demo. The price is US$19.99/C$25.19/€19.99/£17.99.
A largely team based fighting game, Boreal Blade offers a wide variety of combat options for weapons and armor as well as multiple game modes.