They're teaming up with Bomb Chicken developers Nitrome for a procedurally generated game with hints of Mr. Driller and Dig Dug.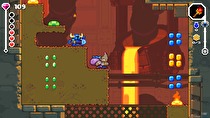 Shovel Knight Dig will be Yacht Club Games' next project after the base Shovel Knight concludes later this year.
The digging-focused platformer is a collaboration between the team and Nitrome, who released Bomb Chicken on Switch in 2018. Development started on Shovel Knight Dig last year and while no estimated release window is in sight, it will be playable at PAX West.
Shovel Knight Dig moves away from the retro flair of the previous Shovel Knight games and moves to modern pixel graphics. The hook is that Shovel Knight's campsite gets attacked by Drill Knight, leading to the hero to chase him down tunnels. The tunnels appear to be designed in a similar style as something like Spelunky as each level is "meticulously crafted" and then placed together to allow for more replayability. More powers and items can be unlocked as you progress as well.
Jake Kaufman returns to make the soundtrack and the cast will of course include familiar faces but new characters and villains, like Spore Knight, populate this next entry in the Shovel Knight universe.