Will Aladdin be good, or Genesis?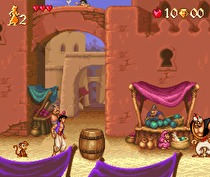 UPDATE: Nighthawk Interactive announced they will be publishing the game today, with development handled by Digital Eclipse (Mega Man Legacy Collection, SNK 40th Anniversary Collection). The collection will feature the Genesis, Super Nintendo, Game Boy, and Super Game Boy versions of The Lion King, but only the Genesis/GB/SGB versions of Aladdin as published by Virgin Interactive. The Capcom Aladdin SNES game will not be included.
The release will retail for $29.99 US on October 29, and will include rewind functions, save states, the ability to watch a playthrough and take over, and two special versions of Aladdin: a "Final Cut" and a "Trade Show" version.
Original story follows.
A compilation of games based on mid-1990s Disney classics has been revealed at a GameStop manager's conference.
First reported by Twitter user @WolverineFactor and confirmed by a picture sent to GameXplain, a compilation of the Lion King (multiplatform) and Aladdin (Super Nintendo and Genesis) games will release in October.
According to the Twitter source, the original soundtracks will be included in addition to an unspecified remastering of the graphics for high definition. It isn't known who will serve as the publisher, as the Super Nintendo Aladdin game was developed and published by Capcom while the other games in the collection were published by Virgin Interactive.
More details are expected to emerge when the game is opened up for preorder tomorrow at GameStop locations.