This November, you can go back to the 1964 Olympics as sprite-based Mario and Sonic characters.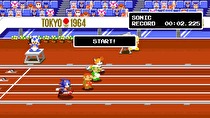 10 classic 2D events will be packaged into Mario & Sonic at the Olympic Games Tokyo 2020 when it comes out on Switch on November 5 in North America and November 8 in Europe.
The 10 events (listed below) all hail from the 1964 Olympics, which were also held in Tokyo. The kicker is they are all presented in a 2D, retro aesthetic, complete with old sprites of Mario and Sonic characters.
100m
10m Platform (Diving)
400m Hurdles
Gymnastics - Vault
Judo
Kayak Single (K-1) 1000m
Long Jump
Marathon
Shooting - Trap
Volleyball
All of those events are in addition to the 21 3D events included, most notably a skateboarding event that seems to be reminscent of Tony Hawk's Pro Skater. Here's the full list of 3D events:
100m
110m Hurdles
4 x 100m Relay
Archery
Badminton
Boxing
Canoe Double (C-2) 1000m
Discus Throw
Equestrian - Jumping
Fencing
Football (Soccer)
Gymnastics - Floor Exercise
Javelin Throw
Karate - Kumite
Rugby Sevens
Skateboarding - Park
Sport Climbing
Surfing - Shortboard
Swimming - 100m Freestyle
Table Tennis
Triple Jump