Blade, Moon Knight, Punisher, and Morbius have come to play.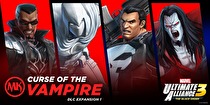 The first part of the paid season pass for Marvel Ultimate Alliance 3 will launch on September 30.
This pack, one of three, is titled Curse of the Vampire and features a series of difficult co-op missions in Gauntlet Mode, a new fast-paced Endurance mode, and new Infinity Rifts. The four new playable characters are Blade, Moon Knight, Punisher, and Morbius. Blade and Moon Knight were both in past Marvel Ultimate Alliance games while Punisher and Morbius are making their playable debuts.
The season pass is priced at $19.99 and will also include two other packs, one for the X-Men and the other for the Fantastic Four. No characters or details have been announced for those, but Cyclops and Colossus will arrive as free DLC for the game on August 30.