Oh yeah, that's the good stuff.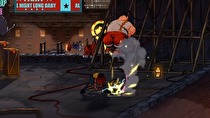 The streets will be live on Switch.
Ahead of Gamescom, it has been confirmed that Streets of Rage 4 will release on Switch. There isn't a timetable for the game's release.
A new character will join the fight: Cherry Hunter, the daughter of Adam from the original trilogy and a guitar-playing brawler.