And it's just like the ocean under the moon...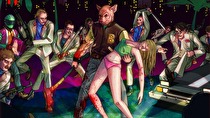 Both of the shadowdrops from today's Indie World are hot.
Superhot and the Hotline Miami Collection will both be available on Switch today. Both games are priced at US$24.99.
Superhot is a combination of first person shooter and the "enemies move when you move" flavor of rougelikes, allowing for more strategic gameplay. The Hotline Miami Collection combines the two Hotline Miami overhead shooters/brawlers on the Switch for the first time.