Mighty Yell presents The Big Con, which is probably coming to Switch but isn't official yet.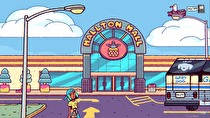 The Big Con is the first game from Mighty Yell and pitches itself as a '90s-inspired comedy adventure where you play a high school girl trying to shake down the mall to save her mom's video store.
While not 100% confirmed for Switch, the team has access to a Switch dev kit, so it's very likely. Mighty Yell has experience on the Nindie side of things, with developers who have worked on everything from Runbow to Guacamelee 2.
The Big Con does not have a release window officially announced yet, but check out the trailer and make your tubular guess at when it will be out.