Seed Interactive stopped by the Talk Nintendo Podcast to give us all the details on their latest project.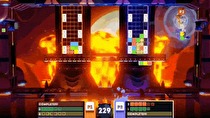 Seed Interactive officially unveiled their second Switch title, StarBlox Inc., on the latest episode of the Talk Nintendo Podcast (episode 152). Blending a Tetris styled puzzler with a fighting game, it aims to capitalize on frantic local multiplayer fun. The developers, who also worked on Skies of Fury DX, plan to release the game sometime this fall.
Check out the full interview below!