The Switch is just leaning into this whole doom thing.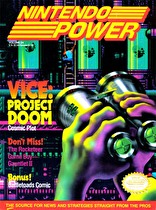 Switch Online's NES library is picking up two games in August that haven't been seen in nearly three decades.
Arriving on the 21st of this month, August's releases are Vice: Project Doom and Kung-Fu Heroes for the west. Vice: Project Doom is a 1991-published action game from Sega owners Sammy, which is largely a run and gun cinematic action title but also includes overhead driving combat sequences and some first person shooting sequences. It was featured on the May 1991 cover of Nintendo Power, and has never been re-released until now.
Kung-Fu Heroes is a localized version of the Culture Brain-developed Super Chinese, which released on the NES in 1989. Its only rerelease before now was a Wii U Virtual Console launch only in Japan in 2014.
The Famicom library will sub out Vice: Project Doom for Downtown Nekketsu Koushinkyoku: Sore Yuke Dai-Undoukai, a 1990 game in the Kunio-Kun/River City series.