The shiny digital future claims another victim.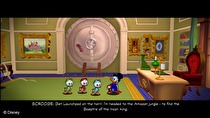 Not even the Number One Dime will let you get the remastered Ducktales after Friday.
Capcom have announced that the 2013 Wii U release Ducktales Remastered will be removed from the eShop sometime during the day on Friday. 4:59 PM PT is the quoted removal time. It will be available for 75% off (US/C$3.74) until the delisting occurs.
Ducktales Remastered was the final Ducktales project for several actors from the 1980s animated adaptation, with Alan Young (2016), June Foray (2017) and Russi Taylor (July 26) all passing away in the intervening years. The game did receive a physical release on Wii U with a disc, though it has been out of print for several years.