This one should be new to Nintendo players.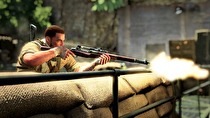 It's going to be a quick turnaround for the next Sniper Elite title on Switch.
Sniper Elite 3, a 2014 cross-generation release, will land on Switch October 1. The Switch version will include all of the original game's downloadable content, including World War II themed missions that involve protecting Winston Churchill and assassinating Adolf Hitler.
The online features of May's Sniper Elite v2 release will carry over, along with 2 player local co-op and 4 player local wireless competitive play.