Now you can make The Lost Levels instead of just the original Super Mario Bros.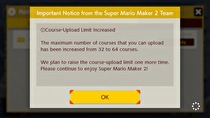 Heavy Super Mario Maker 2 level uploaders just got a lot more room to maneuver.
A notice sent to the game tonight announced a new limit for level uploads of 64: this doubles the previous total of 32.
One more increase to the cap is planned for a future date; the magnitude of which has not been disclosed.