And to quote the Smash announcer, hopefully: "Gooigi".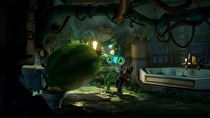 Luigi's Mansion 3 has scored the perfect release date.
The ghost-hunting game will launch in all territories on Hallowe'en, October 31. A new trailer is also available:
When Luigi's friends go missing on vacation, it's up to our reluctant hero to save them from the ghosts in the Last Resort hotel! Join forces with Gooigi, slam ghosts, & prepare for a spooky treat when #LuigisMansion3 arrives to #NintendoSwitch on 10/31!https://t.co/3fg4O2t6PB pic.twitter.com/iNM9BKNKg5

— Nintendo of America (@NintendoAmerica) July 17, 2019
With October 31 falling on a Thursday, Luigi's Mansion is the first Nintendo first-party retail release to not launch on a Friday since Pokémon X and Y launched on Saturday October 12, 2013.