The Lite doesn't mean the OG is gone yet.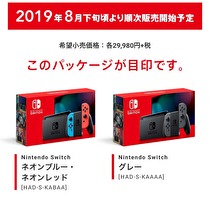 The Switch is getting a stealth upgrade in Japan next month.
Nintendo have announced a revision of the existing Switch hardware for release in Japan on August 29. Retailing for ¥29,800, the revised Switch will feature a minimum battery life of 4.5 hours in handheld mode with a potential maximum of 9 hours.
Although western branches of Nintendo have not made social comments about the revision as of 8:40 a.m. Eastern time, the new model will be available in North America starting "mid-August" and in Europe "early September" at the same MSRP. The new models will have a model number of HAC-001(-01) outside Japan and will have serial numbers beginning with HAK according to Nintendo of America.
Nintendo of America have also announced two new color sets for the Joy-Con controllers: blue/yellow and purple/orange pairs will be available October 4.