As your humble News Editor got his Maximus this past weekend, he's good.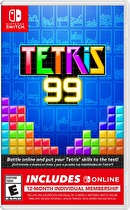 There was a gap in the September release schedule for Nintendo, but they've dropped in the I block to fill it.
A physical version of Tetris 99 will release in North America on September 6. Included in the package will be the game, the "Big Bang" DLC, and 1 year of Nintendo Switch Online. The package will retail for US$29.99/C$39.99, or roughly the cost of the year + DLC.
With Tetris 99, there are now five consecutive weeks of first party Nintendo releases from August 30 to September 27 centered around the Switch Lite.