This one is a long time coming.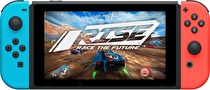 A game announced for the NX will finally hit Switch a week from Monday.
Rise: Race The Future, which was originally announced in 2016 as a title for NX in addition to 3DS and Wii U, will finally reach the Switch on July 22. The 3DS and Wii U versions have been cancelled.
The developers of Rise are perhaps best known for creating the realistic 3DS multiplayer shooter Ironfall.