Let fly the dogs of war.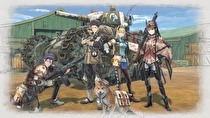 The price of entry has plummeted for a Switch strategy titan.
Valkyria Chronicles 4, which was 50% off as part of a sale on the eShop for the last week, has had the sale price made permanent. The game's eShop MSRP is now US$29.99/C$39.99, and a Complete Edition with all of the game's DLC is now US$49.99/C$64.99. Existing owners can get all of the DLC in one bundle for US$24.99 or equivalent.