That should give you an idea of where they're headed with this.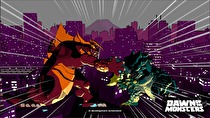 After running and spies, 13AM Games is turning their attention to giant monsters.
The Canadian developers of Runbow and Double Cross have announced their next game, Dawn of the Monsters, for a 2020 release. Dawn of the Monsters is a four player brawler that focuses on defeating an evil race of monsters called the Nephilim.
First footage of the game will be available Friday at the G-Fest XXVI convention in Chicago, which is a kaiju-focused show.