Courtesy of Super Rare Games.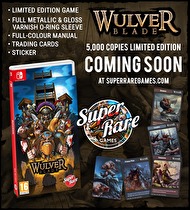 The next release in Super Rare Games' schedule is none other than the well-received Wulverblade - a "hardcore side-scrolling beat-'em-up inspired by classics such as Golden Axe, Sengoku, and Knights of the Round!" (via Press Release)
Included in this edition is a 20 page full colour manual, metallic slipcover, interior artwork, exclusive sticker, and three trading cards.
You can check out our review of Wulverblade right here!
Wulverblade will go up for pre-order on July 11th exclusively at SuperRareGames.com