What if due to a miracle, Steins;Gate dealt with mecha?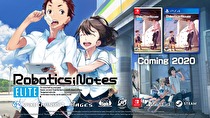 Spike Chunsoft is bringing a pair of follow-ups to this year's Steins;Gate Elite to Switch starting next year.
Robotics;Notes Elite, the follow-up to Steins;Gate in the "Science Adventure" series of visual novels, was announced for a Switch release in 2020 at the Anime Expo in Los Angeles. Where Steins;Gate dealt with time travel, Robotics;Notes focuses on a Japanese school club who are trying to build a giant robot. The "Elite" tag refers to the addition of scenes from the animated adaptation.
The most recent title in the series, Robotics;Notes Dash, was also announced for the West, but no release date was provided. It launched on Switch in Japan this past January.