Smiles should still be free, right?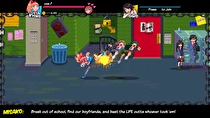 WayForward has revealed more details about their upcoming Arc System Works collaboration, including a surprisingly close release date.
The RPG/brawler hybrid River City Girls will hit Switch on September 5, for a MSRP of US$29.99. The new twist on the River City franchise sees the girls have to rescue their boyfriends, Kunio and Riki, by working their way through six different parts of River City.
A limited physical release of River City Girls will also be available through Limited Run Games.