Anna's so busy trying to get an alternate version in Heroes she forgot to go crazy with the pricing.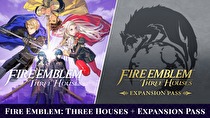 As with previous Switch RPGs, Fire Emblem: Three Houses has recruited an expansion pass.
The US$24.99 pass will reward buyers with an appropriate costume for Byleth (the teacher) beginning on launch day. The eShop has three other items listed in the pass:
Additional items and Auxiliary Battles (given release date October 31)
Additional quests and new attire (December 31)
Additional story content (April 30, 2020)
The December and April releases will also bring free general content updates to Three Houses.