That reminds me of a puzzle...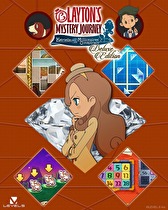 The lady Layton is coming west.
Level-5 will be publishing Layton's Mystery Journey: Katrielle and the Millionaire's Conspiracy Deluxe Edition in the west starting on November 8. A physical version of the game will also be available.
Originally released on mobile and the 3DS in 2017, the Switch version of the sequel to the Layton trilogies features puzzles both new and redesigned, and all of the base game's DLC + new costumes will be attainable in game.